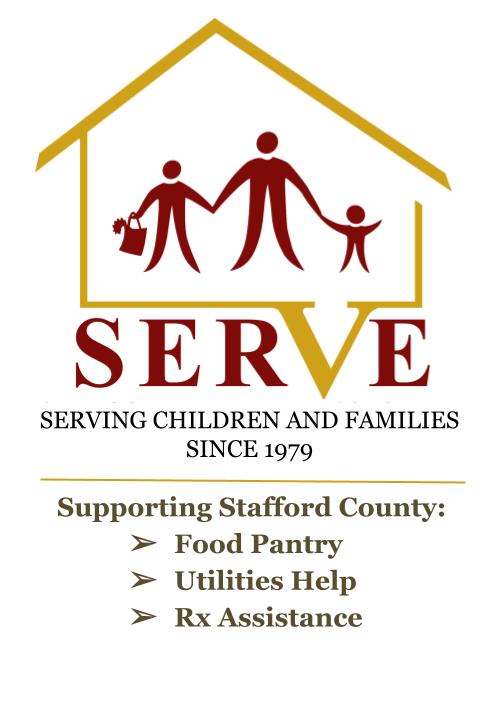 Stafford Emergency Relief through Volunteer Efforts
Our Mission: To encourage individuals and groups to work together to alleviate local human suffering by meeting the emergency needs of children, individuals, and families who are experiencing financial crisis, and to promote programs to help individuals become more self-sufficient.
SERVE is a 501(c)(3) non-profit organization serving all of Stafford County as well as portions of Spotsylvania, Caroline, King George Counties and the City of Fredericksburg.
In 1979, the time was right, the time was 'now'! Community need for emergency help was rising and resources were very limited. Churches did what they could, people chipped in to help, but there needed to be an organized effort to join forces to make a greater impact in the lives of families in need.
This was when a devoted Social Worker and three local Pastors came together to form Stafford Emergency Relief through Volunteer Efforts, affectionately known as SERVE The Social Worker was Jeri Dulin (Redman), she has come home to SERVE and is now on our Board! The Pastors were Jim Treslow, Jack Hancox and Glenn Thomas. Their mission was to provide for the emergency needs of local Stafford families in need of food, utility, housing and prescription assistance. These compassionate people knew that there were good people suffering with great need and that Social Services was unable to do but so much to help! More resources needed to be made available to them for their survival, hence, SERVE was born.
SERVE is a 501(c)3 non-profit organization serving Stafford, Virginia.
Tax deductible monetary contributions can be mailed to:
SERVE, Inc.
P.O. Box 1357
Stafford, VA 22555
Food donations are welcomed at SERVE at the following times:
Mondays – Thursdays 11:00 am-4:00 pm
and the 2nd and 4th Saturday from 10 am- 12 pm
Or call (540) 288-9603 for special delivery options
Donations may be dropped off at:
SERVE
15 Upton Lane
Stafford, VA
(near the Stafford County Courthouse)
Off-Site Food Donation Locations:
Porter Library
England Run Library
Giant Stores in Stafford County
Present & Past – Chatham Heights
President
TBD
1st Vice President
Dominique Bee
2nd Vice President
Ady Fisher
Treasurer
Lisa Haas
Secretary
LaRhonda Gabriel
Members
Serve Founder: Jeri Redman
Todd Eichberg
Diane Wright
Rene Laws
Danielle Miles
Scott Uchytil
Laura Gali
Mike Vrabel
Executive Director
Brian Gillespie
Senior Advisor
Mike Haas

Office Manager
Celeste Young
Volunteer & Events Coordinator
Rebekah Roller
Intake Manager
Mike Chergosky
Pantry Manager
Zachary Ramos
Inventory Manager
Justin Mallory